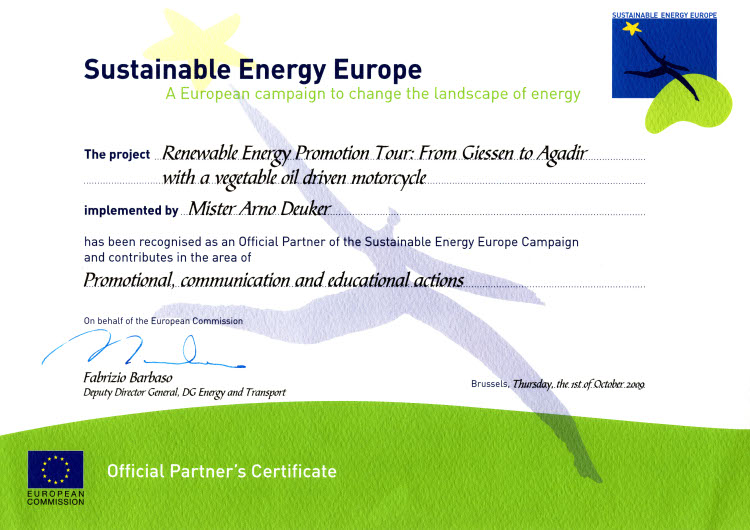 El punto de partida:

Como estoy participo con presentaciones al "2009 International Conference on the Integration of Sustainable Agriculture and Rural Development in the Context of Climate Change, the Energy Crisis and Food Insecurity" en Agadir (http://2009-international-conference.synthasite.com/) seria lógico de viajar de una manera sostenible. Mi moto diésel con sidecar se consideraba adaptada por algunas vueltas de prueba prolongadas. Encontré con greenBull un socio competente y comprometido que garantiza la conversión por aceite vegetal. Por eso inició el proyecto siguiente:

El viaje hacia Agadir (vía Genua barco por Tanger la vuelta vía España y Francia ) con aceite vegetal como combustible y visitando proyectos de energía renovables en mi camino.

Visibilidad publico
Libro
El libro se pide por a-deuker@green-ideas.eu
si llega la pedida voy a imprimir colocar y enviar-lo


Parte 1 - Carnet de Voyage - Arte
Parte 2 - Informe de viaje - Fotos

Diarios:

Schlitzer Bote; 11. Jul. 2009
Wetterauer Zeitung; 14.Jul. 2009
Gießener Allgemeine Zeitung; 14.Jul. 2009
Alsfelder Allgemeine; 14. Jul. 2009
Motorrad Gespanne
Wetzlarer Neue Zeitung; 24.Okt. 2009
Gießener Anzeiger; 03. Nov. 2009
Die Rheinpfalz; 3. Nov. 2009

Internet:


http://congres-international-2009.synthasite.com/
Blog 4 idiomas:
https://www.tumblr.com/blog/mz-851diesel
http://movegreen.de/de/blogs.html
Blog alemán:
http://dieselkrad.info/forum/index.php?t=msg&th=144&start=0&S=b377bf489727ebe9f66a6dccbe10816d
http://mz-forum.com/viewtopic.php?f=60&t=16342
Blog francés:

http://blogs.motomag.com/allemagne-agadir-ecolo/
presentación del proyecto:

http://d4ylightblog.de/wp/?paged=7

http://www.ae-africa.com/read_article.php?NID=1295
http://www.dieselbike.net/
http://www.motorrad-gespanne.de/

http://www.manyone.net/Agadir_Conference_2009/blogs/
http://www.aquaterre.info/html/forum.html
http://www.xing.com/ varios grupos

http://forum.dreiradler.org/viewtopic.php?t=5610
http://news.cleantechies.com/ en: http://news.cleantechies.com/2009/06/17/bioenergy-promotion-tour-sustainable-journey-germany-%E2%80%93-agadir-with-vegetable-oil/
http://www.royal-enfield-forum.de/viewforum.php?f=19
http://www.suckindiesel.com/thingy/viewtopic.php?f=4&t=940
http://fmso.de/forum/messages/415602.htm
el proyecto es bajo el el patrocinio de:

Sra. Irm Pontenagel gerente de Eurosolar e.V.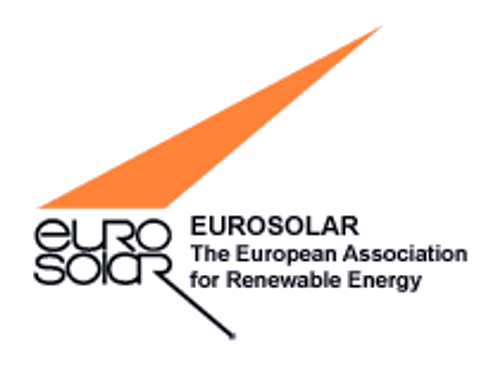 socio: